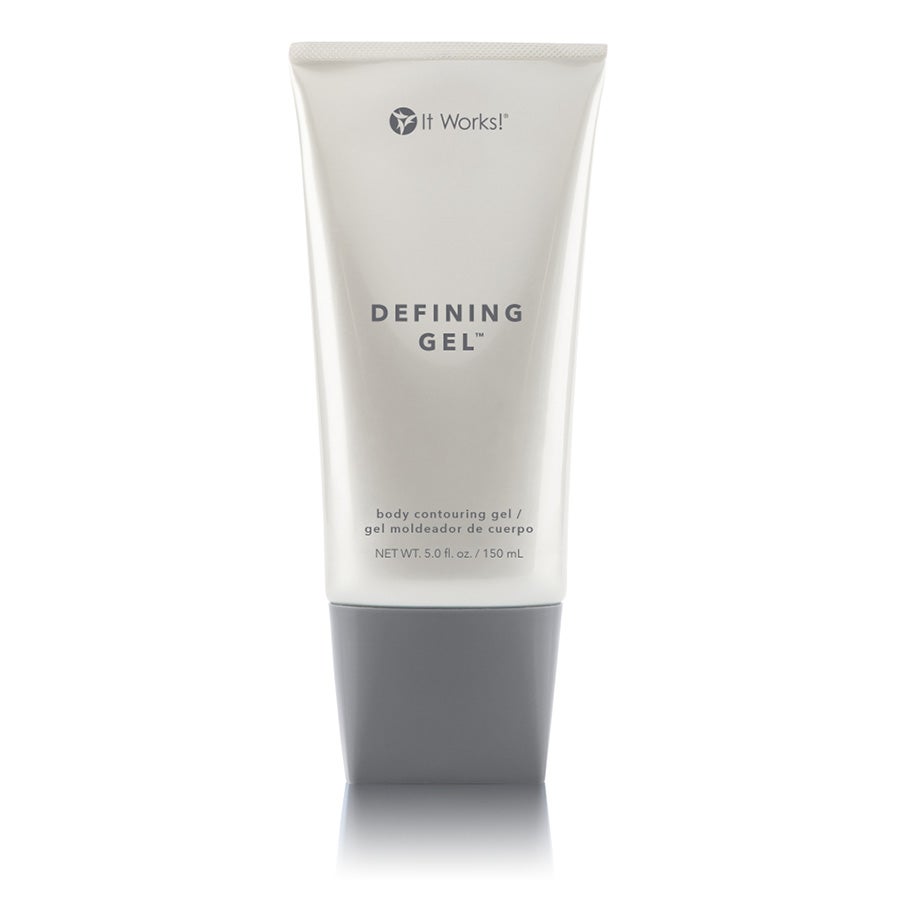 Defining Gel
It Works! Body Contouring
It Works! Defining Gel helps to firm problem areas, such as the abdomen, legs, and upper arms, while improving skin texture. Enhance your tightening, toning, and firming with this deep moisturizing, body contouring gel.
Value
$75.00
Discount
40%
You Save
$30.00
Benefits
SKU :
214
Quantity :
180 ml
Availability :
In Stock
Currency :
Prices are in US Dollars (USD).
Shipping :
Usually ships within 24hrs.
Delivery within 3 to 5 business days.
Improves skin texture & tightness
Redefines the appearance of your body's contours
Softens and hydrates the skin
What is Defining Gel?
Defining Gel is an intensive body contouring gel that hydrates the skin and firms areas such as the abdomen, back, legs, and upper arms.
What are the benefits of using Defining Gel?
Defining Gel works with the Ultimate Body Applicator™ to maintain, enhance, and maximize. Like the Ultimate Body Applicator, Defining Gel improves skin texture and tightness, reducing the appearance of skin slackening. It hydrates, softens, tones, and firms for an all-over smoothness that gives you more youthful looking skin.
How often can I use Defining Gel?
Apply once or twice daily to targeted areas with circular massage until gel is completely absorbed. Extra massaging will assist the toning effect of the Defining Gel and appearance of smooth skin. Your skin will be deeply hydrated, feel softer, and appear tightened, toned, and firmed! Effects are progressive with continued use. It Works! can make no specific guarantees or warranty of performance.
Do I use Defining Gel at the same time as I use an Ultimate Body Applicator?
Defining Gel is designed to enhance the tightening, toning, and firming effects of the Ultimate Body Applicator. Do not apply Defining Gel before using the Ultimate Body Applicator, as the Ultimate Body Applicator works best on clean, dry skin.
Ingredients
Water (Aqua), SD Alcohol 40, Propylene Glycol, Glycerin, Witch Hazel (Hamamelis virginiana) Water, Urea, PEG-7 Glyceryl Cocoate (Coconut Glycerides/ Los glycerides de coco), PEG-8 Dimethicone, Phenoxyethanol, Triethanolamine, Caprylyl Glycol, Carbomer, TEA-Hydroiodide, Rosemary (Rosmarinus officinalis) Leaf Oil, Horse Chestnut (Aesculus hippocastanum) Seed Extract, Eucalyptus (Eucalyptus globulus) Leaf Oil, Sorbic Acid, Sodium Benzoate, Green Tea (Camellia sinensis) Leaf Extract, Gotu Kola (Centella asiatica) Leaf Extract, Bladderwrack (Fucus vesiculosus) Thalle Extract, Ivy (Hedera helix) Leaf Extract, Guarana (Paullinia cupana) Seed Extract, Butcher's Broom (Ruscus aculeatus) Root Extract, Methylsilanol Mannuronate, BHT (Butylated Hydroxytoluene /Butilhidroxitoluol). Limonene, Linalool.