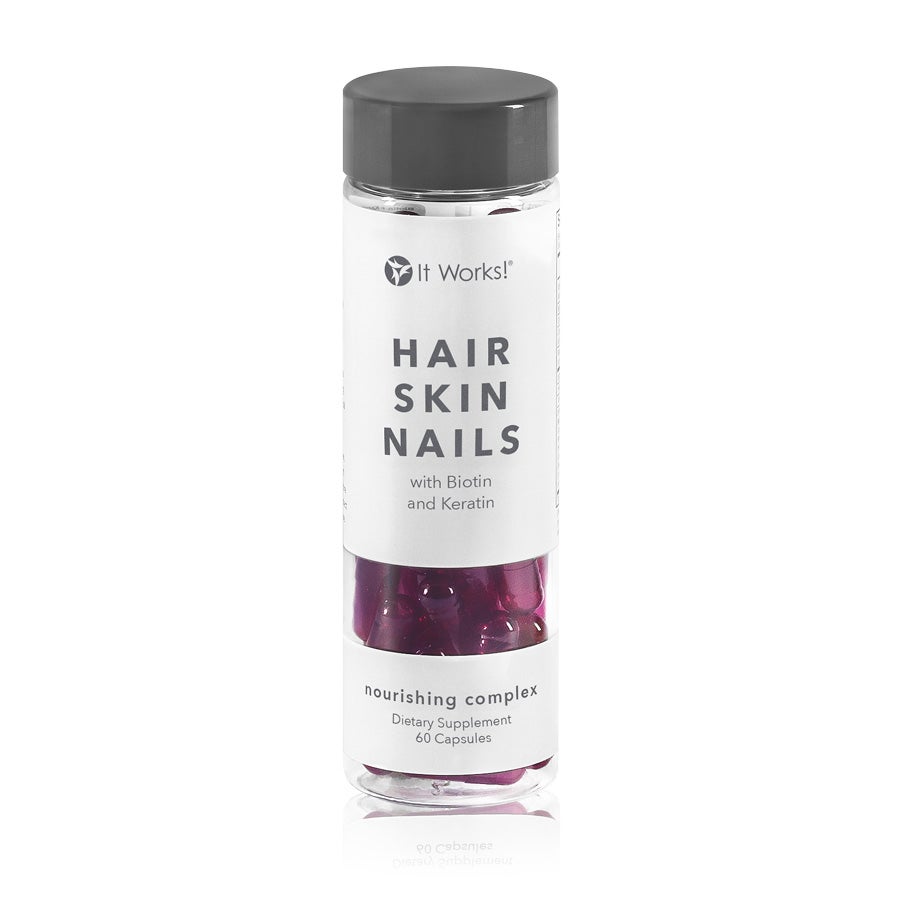 Hair Skin Nails
It Works! Skin Care
It Works! Hair Skin Nails enhances your own natural collagen and keratin production. With essential vitamins, minerals, and plant-based nutrients, it provices support for stronger nails, softer and smoother skin, and shine-worthy hair.
Value
$55.00
Discount
40%
You Save
$22.00
Benefits
SKU :
322
Quantity :
60 tablets
Availability :
In Stock
Currency :
Prices are in US Dollars (USD).
Shipping :
Usually ships within 24hrs.
Delivery within 3 to 5 business days.
Boosts your natural collagen and keratin production
Supports the body's defenses against free radical damage
Moisturizes while enhancing skin's elasticity and flexibility
Promotes healthy cell growth, strength, and shine
What is Hair Skin Nails?
Like the name says, it's all about supporting the health, beauty, shine, and strength of your hair, skin, and nails by nourishing them from the inside out. Through essential vitamins, minerals, and natural, plant-based nutrients, Hair Skin Nails supports your body's own collagen and keratin production, cell renewal processes, and boosts your free radical fighting defenses for an even more beautiful you.
How does it strengthen and beautify my hair,skin, and nails?
Through a beautifying blend of essential vitamins, minerals, and plant-based nutrients vital to supporting the optimum health of your hair, skin, and nails.
Hair Skin Nails includes
Vitamins C, E, B6, and 1667% of the RDA of Biotin, a B-vitamin important for healthy hair growth, strong nails, and glowing skin.
The minerals selenium, zinc, and manganese to protect and support your natural skin renewal and collagen production.
A proprietary blend of plant-based nutrients known for their beautifying properties, including Japanese seaweed, grape seed extract, goji berry, and Extramel® melon pulp extract, all rich in antioxidants, enzymes, amino acids, and even more vitamins and minerals.
Is Hair Skin Nails skin care or a supplement?
It's both! Designed to work synergistically with the It Works! Skin and Body lines, Hair Skin Nails provides optimal, beautifying nutrition from the inside while our botanically based Skin and Body lines nourish, moisturize, tighten, tone, and firm your skin on the outside!
Ingredients
Alpha-Lipoic acid, MSM (mehylsulfonylmethane), Gotu kola extract (10% asiaticosides) (whole herb)
It Works! Proprietary Blend
Grape seed extract (95% polyphenols), Fo ti (he shou wu) root, amla fruit extract, goji (Lycium barbarum) fruit extract, horsetail extract (natural silica), Japanese seaweed blend (kombu, nori and wakame), Haematococcus pluvialis whole algae extract (providing 50 mcg astaxanthin), olive fruit extract, and melon pulp concentrate (Extramel).