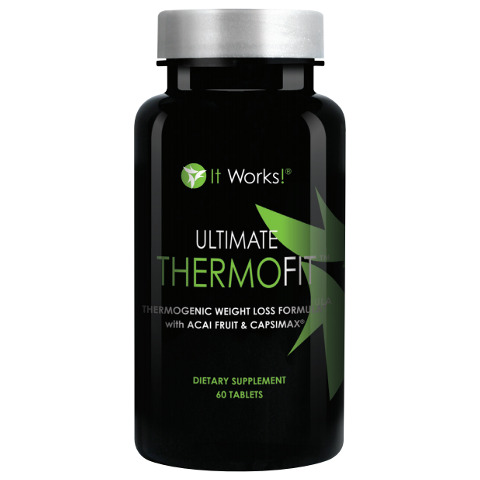 Ultimate ThermoFit
It Works! Supplements
It Works! Ultimate ThermoFit is powered by the antioxidant superfood acai berry and the metabolism-boosting properties of Capsimax®, a red hot pepper blend. Fire up your metabolism with this naturally based, thermogenic formula!
Value
$65.00
Discount
40%
You Save
$26.00
Benefits
SKU :
302
Quantity :
60 tablets
Availability :
In Stock
Currency :
Prices are in US Dollars (USD).
Shipping :
Usually ships within 24hrs.
Delivery within 3 to 5 business days.
Promotes increased calorie burning
Helps boost metabolic rate
Boost energy
Thermogenic formula
Antioxidant benefits of acai berry
What is the Ultimate ThermoFit?
Ultimate ThermoFit fires up your metabolism by increasing lipolysis—the process by which your body signals stubborn fat cells to liberate their fat stores to fuel thermogenesis. With thermogenesis, your metabolic rate increases to burn the excess calories stored in fat and quickly releases it from the body as heat.
What are the benefits of Ultimate ThermoFit?
Capsimax® is the active ingredient in Ultimate ThermoFit that naturally increases thermogenesis. Derived from the hot pepper plant, Capsimax not only boosts your metabolic rate and increases your energy levels but also curbs your appetite so you eat less and have fewer cravings. Ultimate ThermoFit is also fueled by acai berry, an antioxidant-rich "superfood." Studies show that a diet rich in antoxidants may slow the aging process by neutralizing free radicals.
Ingredients
Capsicum fruit extract (Capsimax), Raspberry ketones, Acai fruit 5:1 extract (Euterpe oleracea)
It Works! Proprietary Blend
Green tea leaf extract (provides min. 68mg EGCG epigallocatechin gallate and 38.5mg caffeine), bitter melon fruit extract, dandelion root extract and gymnema leaf extract