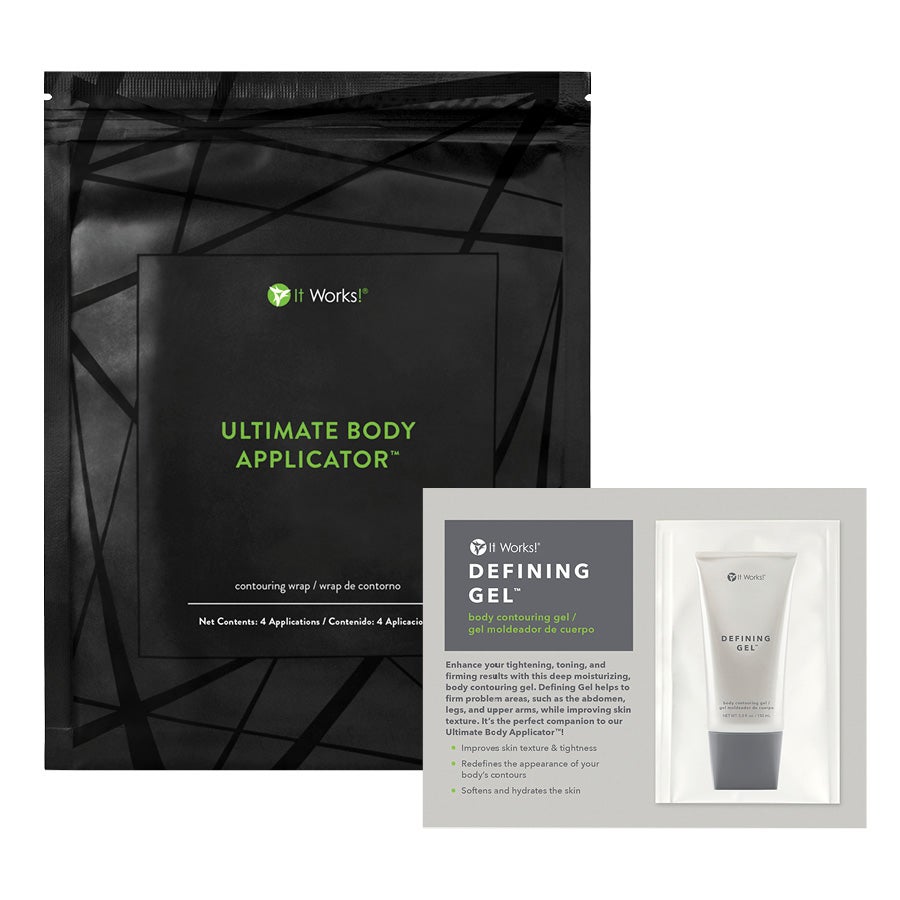 Wrap Pack
It Works! Ultimate Makeover Kits
It Works! Wrap Pack will have you wrapping your way to a tightened, toned, and firmer body with the one-two combination of the Ultimate Body Applicator and mini tube of our best-selling contouring Defining Gel!
Value
$115.00
Discount
40%
You Save
$46.00
Includes
SKU :
112
Availability :
In Stock
Currency :
Prices are in US Dollars (USD).
Shipping :
Usually ships within 24hrs.
Delivery within 3 to 5 business days.
1 bag Ultimate Body Applicator™ (4 Applications)
1 tube Mini Defining Gel™l (0.5 fl. oz.)
What is the Ultimate Body Applicator?
The Ultimate Body Applicator is a non-woven cloth wrap that is infused with a powerful, botanically based cream formula to deliver tightening, toning, and firming ! The botanical ingredients help to deeply hydrate and nourish the skin while redefining the appearance of your body's contours.
How do I use the Ultimate Body Applicator?
The Ultimate Body Applicator comes in a versatile shape that can be applied wherever you choose, such as the stomach, sides, back, upper arms, thighs, or lower legs.
To use the Ultimate Body Applicator, simply open an individual Ultimate Body Applicator pouch (four included in each bag of Ultimate Body Applicators), remove the Ultimate Body Applicator cream-infused cloth wrap, and unfold it. Place the cream-infused side of the wrap against your skin on the area of your body you target.
Secure the Ultimate Body Applicator in place with formfitting clothing, plastic wrap, or, for best results, use Fab Wrap™! You can apply the Fab Wrap by wrapping it around the Applicator you've applied. The Fab Wrap will cling to itself to keep that crazy wrap thing snuggly in place! Leave the Applicator on for 45 minutes, then remove and discard. Rub any remaining cream formula into the skin. The formula gives you progressive effects with continued use.
What is Defining Gel?
Defining Gel is an intensive body contouring gel that hydrates the skin and firms areas such as the abdomen, back, legs, and upper arms.
What are the benefits of using Defining Gel?
Defining Gel works with the Ultimate Body Applicator™ to maintain, enhance, and maximize. Like the Ultimate Body Applicator, Defining Gel improves skin texture and tightness, reducing the appearance of skin slackening. It hydrates, softens, tones, and firms for an all-over smoothness that gives you more youthful looking skin.